New technology paves the way for new opportunities in every industry and facet of our lives. Since the dot-com bubble, software has been eating the world, invading and overturning established industry structures. Some are reaching the so-called Industry 4.0 - referred to as the Fourth Industrial Revolution - transforming how companies improve their production facilities and operations with the Internet of Things (IoT), cloud computing, simulation, system integration, AI or machine learning.
However, many of the Industry 4.0 novelties can be a little far-fetched for the energy industry and oil and gas in particular. The industry is not an easy place to go digital and test new things when the average daily field operating costs are 1.8 MNOK (on the Norwegian continental shelf). Potential downtimes are expensive and often not an option. Project-focused companies value predictability, safety and execution excellence. Agile management techniques, such as the "right to fail", are understandably difficult to integrate within their risk-averse cultures. And because they rely on engineering, procurement and construction (EPC) partners to carry out critical activities, mutual interdependencies make it challenging to reach a consensus for change. Similarly, mergers and acquisitions between operators lead to siloed management structures and numerous legacy systems, posing stumbling blocks when embracing digital transformation. As a result, capital-intensive sectors like oil and gas remain ranked low on digitisation.


3 brownfield bottlenecks
Today's reality for oil and gas operators doesn't revolve around many of the buzzwords. They are swamped with extracting patterns and knowledge from large amounts of data - new and old, in various formats - sourced from traditional systems like customer relationship management (CRM), enterprise resource planning (ERP), and document management systems (DMS) or legacy systems like Coabis.
To become a true digital convert, accessing production logs, equipment tags, product specifications, work orders or P&IDs - to name a few, is not enough to make a tangible impact at scale. They must also evaluate whether they have the tools and skills to effectively process and manage this vast amount of data.
Data governance and IT architecture should be fairly holistic but pragmatic so the operators can process data and adopt new digital solutions. Brownfield operators face three major problems to achieve that. First, the volume and diversity of data slow down exploitation because they need to be cleaned, enhanced and contextualised. Second, integrating these legacy systems brings in a high degree of complexity. Third, the data quality is hindered by inadequate or nonexistent data governance.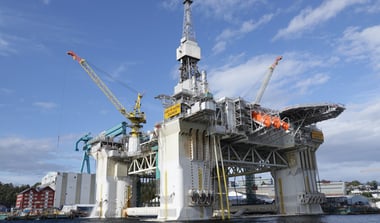 Aggregate, access, analyse
Maintaining data quality and consistency across so many different systems can be solved with a single repository - a digital workspace like Aize - that aggregates any available data, makes it easy to access, and analyses it to make it insightful and actionable.
Onboarding customer data relevant to heavy-asset operations and capital-intensive projects (such as commissioning a 1-billion-dollar oil platform topside) requires Aize to ingest thousands of data points from numerous sources to facilitate asset visualisation navigation and collaboration in its digital workspace.
Potentially, 3,500 people might be generating the data when designing, procuring, constructing or operating such complex undertakings. That means data is plentiful but not immediately applicable as it is scattered and siloed in various places, making it challenging for people with the relevant expertise to locate any vital piece of information and make the right decisions.
Worst case: The data is stored offline, in manuals, and emergency response plans are sitting on dusty bookshelves in monitoring or operating rooms offshore.
Collecting, matching, validating and uploading customer data to a new application is particularly challenging for brownfield operators. When considering deploying a new software solution, the presence of existing or legacy software systems must be considered as they are vital for sustaining ongoing operations. Aize aims to coexist with systems already in place rather than replacing them - to enhance existing capability without any interruption and risk of potential downtime.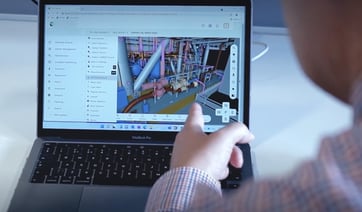 Onboarding at Aize
When starting the evaluation of a potential fit for Aize at your organisation, you will come across some of our subject matter experts like Fergus McCann, who founded Coabis - the predecessor of Aize. They will assess your data readiness based on the availability of tag registers, line lists or ENS (engineering numbering systems) and help you fill in the gaps if any are missing. This gap analysis becomes a detective work where our experts look out for spelling mistakes, dodgy characters and other data that don't match up properly with the ENS, which are often caused by manual data entry. They will also be curious about where this data is sourced from - do you store your work order data in SAP or Maximo? Are your photogrammetry and laser scans in R2S or Cintoo? Do you manage your documents in Documentum or elsewhere? Based on these insights, they will help you meet the minimum requirements and kick off your first steps with Aize.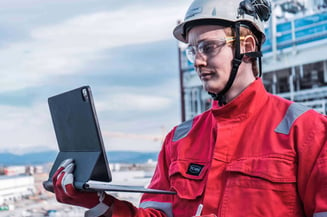 We can start setting up Aize with what you have available, be it basic engineering metadata or a DMS (document management system) and run it through a 3D engine like Cognite to make the data ready for the web. Take P&IDs, for example; we can convert them to SVGs which turns them into smart documents that you can click on to navigate to the corresponding part of the 3D model and vice versa.
Building a digital twin can therefore happen in parallel while filling in the gaps. There is no need to wait for the perfect and complete data pool.
The sooner you throw up concrete challenges, and we tackle real use cases, the sooner you can arrive at your aha moment and understand how a single source of truth can transform your operations.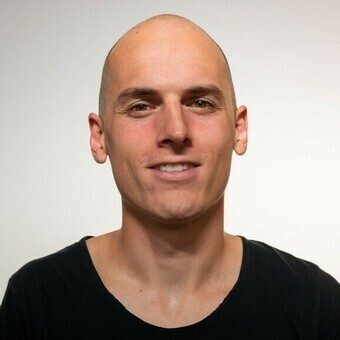 Viktor Pika is a Product Marketing Manager at Aize. You can find him at the intersection of product, marketing and sales. His background comes from B2B SaaS enterprises in the Netherlands, Australia and Finland. He holds an MA in Media Innovation and loves to expose the impact of technology on people and businesses.
Stay in the loop
I'd like to receive: