The path from information in printed Excel sheets to digital twins of large platforms might seem overwhelming. How do you quickly go from the former to the latter?
Michael Edwards, Head of Software Engineering, and his team of architects, data engineers and customer engineers, are refining the very foundation of Aize – the accessibility of your data.
'Our task is to make all data available and ready for Aize to visualise and show. We lay the groundwork by taking data from different sources like sensors, drones and cameras, all in different formats, and verify it for use. With the right data, the software can do its magic by linking it all together and creating a single source of truth', Michael says.
Integrating all systems in one place

The recent development in new technology, like third-party APIs, has been an eye-opener for many in our industry. This means an increasing number of companies are moving away from a more than 30 year old mindset.
'Now, our partners are building their own digitalisation teams, doing data cleansing, and pushing to get their hands on solutions that let them make data-driven decisions. This is where we come in', says Michael Edwards.
'The experience from asset-heavy industries makes us prepared for almost anything. We've built base systems, integrity systems, maintenance. We've seen the different types of data and formats and know what to look for. We have the tools and procedures to speed up the processes significantly.'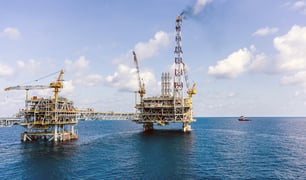 A worry for some companies might be that the significant investments they've already made in digital infrastructure and legacy systems will be lost when they seek to transition to 'fresh' technology. They've heard many promises, but not all have been delivered.
However, one of the main things Aize is achieving is the integration with third-party systems and saving partners the cost and effort of actually replacing those existing investments. Aize wants to harvest all that information and make it accessible.
'We have yet to come across a program or system that we haven't been able to connect with in one way or another. From a data point of view, we are fully tech agnostic', Michael says.

'A lot of these third-party systems have APIs for automation, but we can still do it the old school way: Stack imports, manual intervention, which means we have a long list of systems that we have connected to. And when we speak to our customers, we see that it just adds to that extra level of trust'.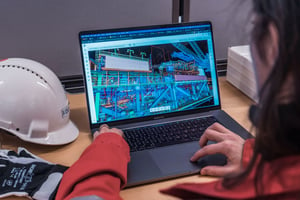 Keeping the data safe
Speaking of trust, what are the other biggest worries out there? Our customers' corporate IT departments frequently ask how we manage the handover of data.
'Since they hand it over to us, the IT departments understandably want to make sure that only authorised people have access to the company and asset's data', says Michael before he continues:
'We're using the newest standards within cloud deployment, following strict industry standards. Convincing our customers that we're properly vetted, that we handle the various levels of security within the data that is needed, and that there's no risk of leaks, that's one of the most important things we address in these interactions.'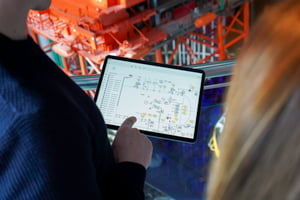 More automation and faster delivery
By putting the data in the hands of Michael and his team, Aize users, on the other hand, get to worry less about storage issues and downtime.
'From an infrastructure point of view, using Aize eliminates many challenges for our customers', he explains.
'Worries about storage capabilities and downtime is one big thing, but having the data and the software readily available in a web-based product eases the process of deployment and updates. One example: Previously, if you had an executable you needed to install, you might have had to update the desktop programme on every single employee's device, while now, the updates come automatically when they log into Aize', explains Michael.
The data team is now strengthening their automation efforts to accelerate the asset-building process further.
'With the constant development of new technology and solutions, we have more tools at hand to automate our builds. Compared to before, the number of clicks, to keep it simple, we must go through for each build has decreased, thus cutting the time spent on each build', he says.
'Before, we discussed getting from months to weeks. Thanks to automation, we're now talking weeks to days. Who knows where it can go from here - hours? Let's see'.


Do you have any questions?
We would love to hear from you. Feel free to reach out to us at any time.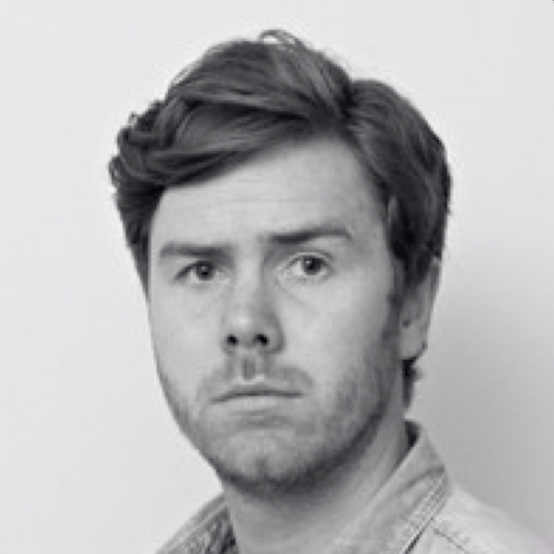 Mads worked as a journalist and project manager in Aller Media and Schibsted for 15 years before joining Aize as Content Manager in 2021. He loves writing, travelling and living in Oslo.
Stay in the loop
I'd like to receive: