'We made an inflatable life jacket that prevents containers from sinking after falling off cargo ships, called "FloatCon 3.14".' - Sara-Emilia Ciesla Shahdadfar
What did you do with your high school years? Sara-Emilia Ciesla Shahdadfar and her all-girls team in Strawberry π are already doing things to change the world.
This team of eight girls from Norway (14 to 16 years old) attend Norges Realfagsgymnas Ungdomsskole in Sandvika and recently competed in the First®Lego®League Challenge (FLL) World Festival in Houston - an international knowledge and technology competition which incorporates STEM (Science, Technology, Engineering, and Mathematics) through fun and hands-on projects.
'Participants engage in research, problem-solving, coding and engineering, and building and programming a LEGO® robot that has to navigate and solve missions of a robot game. The research and problem-solving part also involves completing a project to identify and solve a relevant real-world problem', says Sara-Emilia.
'To get to the USA, we first competed in the regional finals in Oslo last November and then competed in the Scandinavian final in March of this year, where we came in third with our innovation project. That got us qualified for the World Festival in Houston'.
The idea: A life jacket for containers
At Aize, we genuinely believe that technology for everyone must be created by everyone to be a true reflection of our diverse society. So, of course, we decided to sponsor the Strawberry π team on their journey to America.
This season, the theme for the World Festival project was CargoConnect, how to improve transport.
'Every year, over a thousand containers fall overboard at sea. During the last few years, these numbers have only increased. It is also likely that the numbers will keep increasing because of the high demand for cargo, time pressure, harbour overload and climate change. This leads to containers being stacked too high on vessels, causing racks to become unstable in difficult conditions like bad weather and containers falling off', Victoria Dale-Melleby of the team explains.
The containers obviously become an environmental hazard, polluting the sea with trash, plastic and toxins from the containers themselves and the cargo. Not to mention significant economic loss for companies involved.
'We made an inflatable life jacket that prevents containers from sinking after falling off cargo ships, called "FloatCon 3.14".'
'Our solution is similar to an airbag combined with the inflatable life jacket humans use. It is made of polyamide and will activate with the help of an accelerometer sensor and gas cartridges. You use GPS to locate the lost containers' position. The 'life jackets' fabric will also be neon coloured with reflective materials, so other ships can avoid hitting them, increasing safety for those ships, the containers and the cargo. We didn't win, but it was still a great experience', says Victoria.
The dream is to return to the competiton
Next season, the team will be split because most of the team will age out of the FLL. The younger members will start a new team and work hard to return to the World Festival, while the older girls will move into the First®Tech Challenge (the next division) and put their abilities to work there.
'Our dream is to get the original team together again in two years and compete in the World Festival of First® Tech Challenge.', says Victoria Dale-Melleby, adding the team came home from Houston with some fantastic memories:
'The best part of the experience was to present our projects to other teams from all over the world. To learn by talking in person to other teams about the use and interpretation of technology. Interacting with someone just as interested in technology as yourself, hearing what they came up with, how and why. We learned what we all have in common is that we do this because it's fun, and we want to help save our planet.'
At Aize, we are proud to have been involved in the team's journey as we continue to support diversity in tech. Sara-Emilia Ciesla Shahdadfar has a clear message to everyone interested in doing the work:
'If you are worried that the tech world is mostly represented by men, do not be afraid! As long as you find technology fun, don't hesitate to get involved and take the next step. All of us have to start from the bottom to learn and build knowledge and to be able to reach our dreams. One day, your dreams can prove important for the whole world.'
Interested in joining our teams?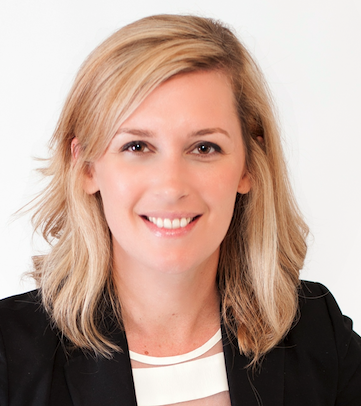 Leigh is our Senior Director People & Org. She is born and raised on the beaches of California. She completed her undergraduate degree at UCLA before she moved to NYC where she pursued her masters at NYU. She began her career in the banking industry in NYC, then moved to Houston, TX for her first role in the energy sector. When she moved to Oslo in 2016, she started a salad bar which she ran for a few years. She's now happily returned to a career in People & Org.
Stay in the loop
I'd like to receive: