Aize is right now playing a key part in the Aker family's efforts to be at the forefront of digital transformation of the heavy asset industry, a transformation by some estimated to be worth trillions of dollars every year.
The maturing of these technologies over the last half-decade means we are finally ready to change the way we work, collaborate, share information. Aize wants to help.
– If you offer an engineer, maybe the best in the world at what he does, a tool that helps him work more efficiently – that's fantastic. But if that engineer has not gotten any say in what that software looks and feels like – you're out, says Jarle Skrebergene, CEO at Aize.

Recently Aize took a big step: Focus shifted from our software solving problems in specific projects to developing our scalable product. This shift is forming the company's future.
- First of all, there is no contradiction between being product-centric and being customer-oriented. Being product-centric just means spending enough time with the users of your product. Of course, it helps when people who have that experience work for your company, says Christian Møller, Chief Product Officer.
The people with the experience he is talking about are people like Jason Brown, UK Country Manager, with more than 25 years of upstream and downstream experience. Or Senior Director Fergus McCann, a long-time Aker employee whose 30+ year journey led to software that is today a big part of Aize.
People who truly understand the value of what we are trying to achieve, and actually managed the tasks Aize now are helping solve faster, more efficiently, and safer.
– We have always put end-users first. We have just become more focused, Christian Møller says.

Aize wants to revolutionize project execution and operation in heavy asset industries. We want to improve collaboration and reduce costs. The ultimate goal for our software is to create a fully digital experience, from gathering insights, to design, fabrication, construction, and ultimately the operation of an asset.
Being a child of Aker does not hurt in this regard. Being able to draw on the ocean of domain expertise that exists in-house puts Aize in a unique position as a young company. We know who we are trying to help, and we know how.
– And we keep talking to all new and potential end-users. They voice their experience, motives, and vision. Rather than simply coming up with a solution that fits their immediate needs, we broaden our perspective by breaking down the more general problem, Christian Møller explains.
– We ask questions. We come up with hypotheses, which we then test and iterate on. We have had a lot of workshops with different companies, trying to align problem statements that are out there with what we provide already. We try to align what we have to what they need.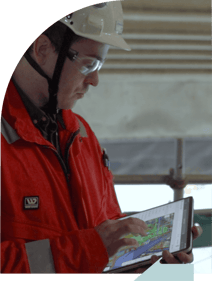 «How will our product help them in their day-to-day?»
That is the question being asked all the time in the Aize offices, and finding the answer becomes slightly easier by just having the right people working on it.
– Our approach as a product-driven company is to create scalable value, and in the end, reach a much wider audience. However, the lessons we are learning right now, in collaboration with our partners in Oil and Gas, are invaluable going forward. Solving actual problems on actual things with actual people, Møller says.

In essence: With Aize, the abstract becomes concrete. We understand what our customers do, and we understand who we serve.
– Intelligent data management and analytics makes it so much easier to keep your energy assets running smoothly. It gives you faster and smarter decision-making, and the opportunity to optimise operations across the most complex and challenging environments. The energy industry is filled with unused data, we just want to go harvest, says the Aize CPO.
Five reasons to keep watching our progress:

1. Experience counts




Aize harbours over 30 years of experience to offer our customers the opportunity to forge and maintain an operational digital twin. We speak the customer's language, moulding our knowledge into our solution.

2. Have it your way

Aize is completely configurable and scalable. Couple that with self-service, and our customers have complete control of their journey.

3. Fast forward your tasks

We are passionate about our users and their interaction with Aize. The day-to-day activities of our customer's Subject Matter Experts now live in the fast lane.

4. Release your value

E2E operational management with clear, measurable value in maintenance, integrity, and related support costs. The prize of 30%-60% savings is there to be grabbed.

5. Bring on the future

Fast deployment and future-ready. Not only does Aize protect existing infrastructure investment, but we are ready for a changing world.
Curious to hear more about how Aize's products are improving operations in the oil and gas industry? Check out the video below!
Ready to join our team?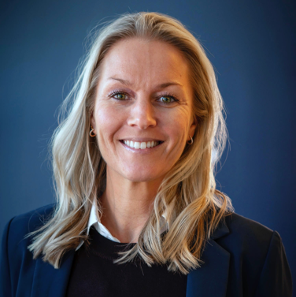 Trine is a marketing enthusiast who loves to see the effect of marketing and communications when strategy is turned into action. She is Head of Marketing in Aize and has held similar positions in Visma Software and Basware Corporation. She comes from Norway's palm coast, Kristiansand.
Stay in the loop
I'd like to receive: