Aize is growing fast. From an idea discussed in March 2020, to a team of eight mandated in June to build a software company that would transform capital-intensive industry, Aize has today become an international player with solid industrial products.

To support the company's growth phase and the execution of its corporate strategy, Aize has recruited three industry veterans with deep expertise in scaling fast-growing technology companies.
Christian Møller, Linn Johnsen-Haglund and Michael Link will be joining Aize after the summer as Chief Product Officer, Chief People & Organisation Officer, and VP of Engineering respectively. Combined, they have over four decades of experience from leading software companies including Kongsberg Digital, Microsoft and Opera Software.
We had a chat with Christian and Linn to hear about what attracted them to Aize and what impact they wish to have on the company.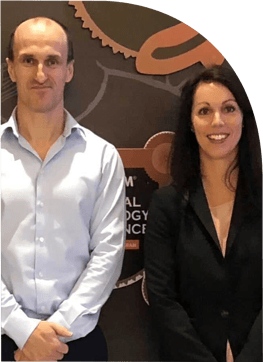 Christian Møller

, Chief Product Officer
– What attracted you to Aize?
I had extensive discussions with Kjell Inge Røkke, Jarle Skrebergene, John Markus Lervik and Karl Johnny Hersvik, and their ambition to make the Aker system a global industrial software leader played a major role in my decision to join Aize.

Aker's big bet on technology, renewable energy and low-carbon solutions makes it a very exciting place to be right now.
It's rewarding to be part of a start-up, and all the more so when it's one that is part of the Aker system, which has an impressive track-record. Just look at what they've accomplished with Cognite. It shows that they're serious about playing a major role in the digitalisation of industry, and they have the financial muscles and the long-term vision to make it happen.

– What impact do you wish to have at Aize?

My main goal is to build the best software environment, making Aize the workplace of choice for all talented software developers. We don't have much of a tradition for that in Norway, where organisations tend to be very project-oriented, rather than product-oriented. The latter requires a slightly different organisational culture and it is more demanding, but that is what I aim to accomplish.


– What potential do you see for Aize's software in the transformation of capital-intensive industry projects?
If we succeed, our software will play a critical role in the development phase of industrial projects and will gradually be incorporated in the operational phase.
It won't be easy, but that's what we need to achieve: develop software that can be used through the entire life cycle of capital-intensive projects.


–What role can Aize play in accelerating the energy transition?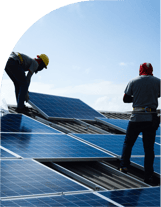 The renewable energy market is demanding, I know that from experience. But it is also the future, so we need to position ourselves for that and figure out where we can have the biggest impact. It's also worth noting that it is an industry segment that many people want to work with, so our work with Aker Horizons and their portfolio companies is likely to help us recruit top talent.


–What do you want Aize to be known for?

I hope we will be known for having the best software developer culture in Norway. If we succeed with this, the rest will follow. Once you have talented people, the sky's the limit.
Linn Johnsen-Haglund, Chief People & Organisation Officer
– What will your role be at Aize?
I will be leading the People & Org function, which essentially means that I'll be supporting the implementation of our corporate strategy to build a leading SaaS company.
At the end of the day, it's all about people – both the customers and our own people who will be developing the technology – and how we're able to collaborate on these extremely complex problems we're trying to solve.
It requires a very different way of collaborating than if you're used to working for more project-oriented organisations. When you're focused on product development, you need to collaborate more broadly across the organisation, which for many is a new way of working. That's where I come in. I need to ensure that we have the right profiles, the right competency, sufficient capacity and that the collaboration is functioning optimally.


– What attracted you to Aize?
I've come to realise that I'm happiest when I can take part in building something, with all the complexity and chaos that comes along with that. It's incredibly exciting to be a part of the journey from an early stage and to learn together through trial and error. And I think it's strategically smart of Aize to create the position I've been given, as it signals that they place a high value on taking care of their people.


– What would you say characterises Aize?
Based on what I've experienced so far, Aize is characterised by a young and playful mindset. They've created a work environment where it's safe to express one's own opinion and where one is encouraged to take a seat at the table and get involved. They also have strong values, the last of which is the famous cucumber, which I think says a lot about what kind of company they want to be.
Aize wants to be different and my impression is that they really are. I see it as my responsibility to make sure that we preserve this culture as we grow the organisation.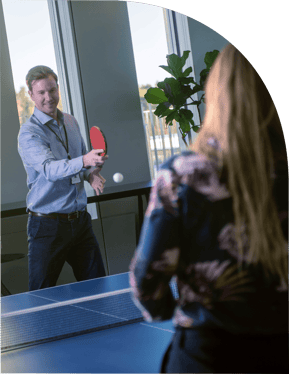 – What does it take to succeed for a young start-up whose ambition is to transform the industry?
Aize is fortunate in having a financially strong majority owner such as Aker, which gives them more room to maneuver. It's also important to get all the employees on the same page in terms of how we do things - both the ones who came in through acquisitions and external recruits.
Frequent communication is key, both internally with the employees, as well as externally, with clients.
Maintaining a close dialogue with customers to really understand their needs is essential. Aize has adopted a lot of modern methods of working with software development, such as sprints, which I think is clever as things change so fast. You might think you have a good grasp of what the market needs, but six months later this could have changed completely. Similarly, you need to have the right processes internally that support that agility and spirit of innovation.


– How do you attract top talent?
By offering them interesting products, projects and customers, which is what Aize can offer.
Aize works on early-stage technology that will play a central role in driving industry transformation, so for purpose-driven software developers who wish to play a role in shaping the fourth industrial revolution and position Norway as hub for industrial software innovation, this is a rewarding place to be.

– What impact do you wish to have at Aize?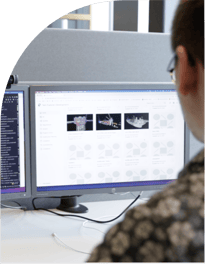 That in five years' time the company has succeeded in executing on its strategy and that the "People First" principle will have played a central role in accomplishing this. Attracting top talent with the right competency is one thing but getting them to work together in the most optimal way is where the key to success resides.
Want to take part to this exciting journey?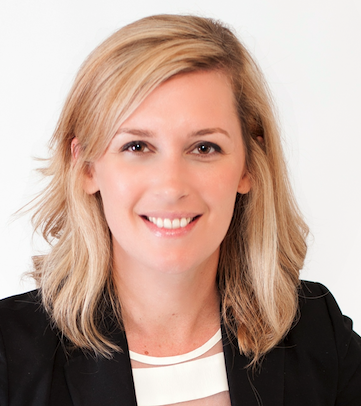 Leigh is our Senior Director People & Org. She is born and raised on the beaches of California. She completed her undergraduate degree at UCLA before she moved to NYC where she pursued her masters at NYU. She began her career in the banking industry in NYC, then moved to Houston, TX for her first role in the energy sector. When she moved to Oslo in 2016, she started a salad bar which she ran for a few years. She's now happily returned to a career in People & Org.
Stay in the loop
I'd like to receive: