So, why does a tech company founded a year ago, trying to change the world with its software, not see itself as a start-up?
Good question. There was no garage with our CEO and two of his developer buddies, first of all.
But more importantly: At Aize, we believe that if you want to succeed in transforming an industry like the heavy-asset industry, it has to happen from the inside. Like all change has to come from within, in all parts of life.
So, when Aker mothered Aize, it was birthing a somewhat privileged child: Born with access to a deep domain knowledge developed over centuries. Domain expertise that made companies like Aker global leaders within their field.
– In Norway, we are probably the best in the world carrying out heavy-asset, capital-intensive projects and operating them. If you want to build software seeking to change the way of work in this industry, there is no better place to start, says Aize CEO Jarle Skrebergene.
So we are gradually introducing new technology, automatization, and software to our family (and friends), driving this industry's transformation.
– We have the expertise in our system, whether it be on building oil platforms, windmills, or operating offshore facilities. We are merging this with the sharpest minds in software, Skrebergene points out.

These internal and external partnerships are shaping our company's growth right now. Drawing on the ocean of domain expertise that exists in-house and within our customers' houses put Aize in a unique position as a young company. We know who we are trying to help, and we know how.
«How will our product help them in their day-to-day?»
That is the question being asked all the time in the Aize offices, and finding the answer becomes easier by just having the right people working on it.
Enabling industrial companies in their growing need to digitise every aspect of their operations is challenging. Still, Aize is developed for and by domain experts who understand the opportunities of building and operating complex assets.
The result: A digital workspace that helps you visualise and collaborate on otherwise siloed information.
At Aize, we say we see things differently. But users rarely embrace change that's not an upgrade. The maturing of technology over the last half-decade means we are finally ready to change how we work, collaborate, share information. Aize wants to help.
– Finally, the tech is ready enough. That opens up a lot of possibilities, says Jarle Skrebergene.
– We want to revolutionise project execution and operation in all heavy-asset industries. We want to improve collaboration and reduce costs. The ultimate goal for our software is to create a fully digital experience, from gathering insights, to design, fabrication, construction, and ultimately the operation of an asset.
We understand what our customers do, and we know who we serve. We solve real problems for real people. So, as far as privileged children go, we are putting our unique position to good use.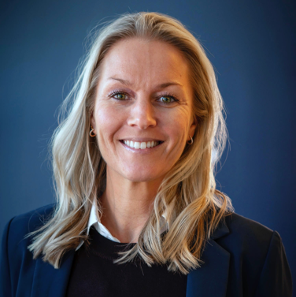 Trine is a marketing enthusiast who loves to see the effect of marketing and communications when strategy is turned into action. She is Head of Marketing in Aize and has held similar positions in Visma Software and Basware Corporation. She comes from Norway's palm coast, Kristiansand.
Stay in the loop
I'd like to receive: