Attracting people with an array of talents is kind of our thing at Aize, and with Kristela Ceco soon coming up from Tirana, we certainly continue that trend.
Kristela is joining as one of our new front-end developers, but it could have gone a completely different way if she had continued her childhood passion – tennis.
– Actually, my best friend got me into it when I was 12, she was already playing and dragged me along, Kristela tells us from her temporary home office in Albania.
– In the beginning, we didn't have access to a court or anything, we just put a net up in the street and kept playing.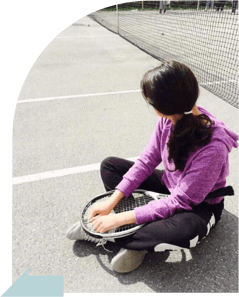 Kristela remembers how her shoes kept getting worn out from the rough surface, and she had to buy new ones almost every month. But she was good and was getting better.
The first racket she got for herself was brought from Canada by a cousin, and after that Kristela and her friend started ordering equipment and balls from abroad when they could afford it.
– It would take like three or four months for the stuff to come, and it was such a joy for us to just open those boxes, she remembers with a laugh.
She eventually started playing real courts, got a trainer, and even started traveling around Europe, participating in elite tournaments.
– We went to Macedonia, Turkey, Greece… It was a lot of fun, but at some point, all the traveling meant I had to miss a lot of school, and I was still very young.
So when Kristela started high school, tennis went from being a career to being a hobby (luckily for Aize!).
Still, she is sure her years of training came in handy when she eventually started her education as a developer.
– Absolutely. You have to strategize in tennis, and at the same time make decisions in an instant when playing. I believe it made me able to think on my feet and work well under pressure. I have noticed later in life that I perform better when the pressure is on, because tennis taught me to keep cool and control my nerves, she says.
– Same thing goes in software development. You have to believe in your ability to succeed and keep cool. Look at Roger Federer and how much he has won! This is how you win with your projects in other parts of life as well.
Kristela kept cool when winning her position at Aize as well, and we are now looking forward to seeing her smashing it for our company in Oslo as soon as she gets to relocate from Tirana.
And even if she doesn't get to play as much tennis as before, she has a promise (and a challenge) to her new colleagues:
– I will bring my racket with me! You can't forget tennis, it's like riding a bicycle when you've done it for so long. I just need two hours of practice, and my reflexes will be back again, she laughs.
Ready to join our team?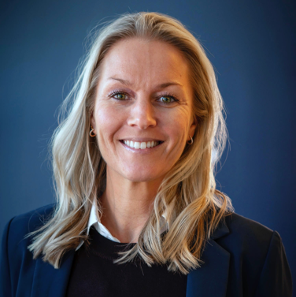 Trine is a marketing enthusiast who loves to see the effect of marketing and communications when strategy is turned into action. She is Head of Marketing in Aize and has held similar positions in Visma Software and Basware Corporation. She comes from Norway's palm coast, Kristiansand.
Stay in the loop
I'd like to receive: