Five-year electron program will integrate digital operations into world-leading renewable companies. The companies will leverage industrial software to bring clean energy to markets across four continents.
Aize, Aker Horizons and Cognite have initiated a collaboration to integrate digital into Aker Horizons's renewable energy companies and their low-carbon projects from development through to operations. In doing so, they aim to incorporate digital into each of the Aker Horizons companies DNA. The electron program is dedicated to embedding industrial software throughout the entire value chain of Aker Horizons' portfolio companies, which span clean hydrogen, carbon capture, wind, and solar power.
"Aker Horizons was in many ways established to accelerate the way renewable energy and low-carbon solutions are developed and operated. Aize and Cognite will lead the charge towards a fully digital delivery model that secures sustainable renewables projects," says Aize CEO Jarle Skrebergene.
"The Aker Group has a long track record of working with digitalisation across companies, and we will build on this experience in our work with Aker Horizons, using software in a novel way and leveraging synergies across the portfolio to put Aker Horizons' companies ahead of the competition."
Today, each Aker Horizons company is seeking to optimise the traditional project execution value chain by leveraging individual digital solutions designed to enable execution processes. Aize and Cognite will be working with the portfolio companies to design a digitally-native value chain that leverages industrial software and delivers projects faster and more efficiently.
"Cognite Data Fusion, our industrial dataops platform, has been leveraged to advance sustainability and profitability of globally-leading industrial companies. We look forward to bringing our proven technology, global expertise, and on-ground experience in empowering Aker Horizons' companies to fully capture the enormous value in industrial data and digitalisation," says John Markus Lervik, Cognite CEO.
"Inherent to the success of our long-term value creation strategy is to take advantage of the technologies, the industrial competence and the software available in the Aker system. This is why we, as part of the Aker Horizons portfolio companies, have partnered up with Aize and Cognite," says Tove Røskaft, Chief of Staff and Business Excellence at Aker Offshore Wind.
"Between them, Aize and Cognite have the solutions and knowledge to make sense of raw data, put it in context, and build applications on top of Cognite's data platform to improve efficiency and drive better results, from planning through construction and into operations."
Aize will provide domain-specific software applications that enable significantly faster and leaner project execution and smarter operations. Cognite brings its world-renowned industrial dataops platform Cognite Data Fusion, which liberates and contextualizes data from various data sources.
"From an Aker Horizons perspective, we believe electron will play a key part in achieving the necessary scale and synergies across our portfolio of companies on digital," says Andrea Stephansen, Digitalisation Lead at Aker Horizons. "We will support each individual portfolio company on their digital journey and enable cross-collaboration through the use of more standardised industrial software on top of a common data platform."
The electron program includes Aker Offshore Wind, Aker Carbon Capture, Aker Clean Hydrogen, Rainpower and Mainstream Renewable Power.
"By going into these renewable projects at the concept stage, we have a golden opportunity to build digital delivery models from scratch rather than changing existing work processes, which is far more time and resource consuming," says Skrebergene. "This enables us to accelerate the Aker Horizons companies' digitalisation journey."
To meet the needs of the rapidly growing renewable energy market, Aize is scaling up the organisation. By the end of 2021, Aize expects to have reached 200 employees, most of them software developers.
"Standing on the shoulders of Aker's 180-year industrial history, we're leveraging our deep domain expertise from the oil and gas sector to support the energy transition. Digitalisation is transforming the renewable energy sector. We have a very exciting journey ahead of us," Skrebergene concludes.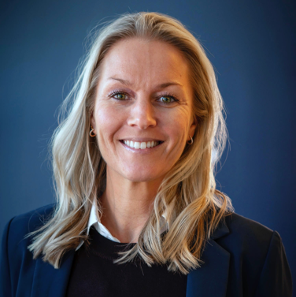 Trine is a marketing enthusiast who loves to see the effect of marketing and communications when strategy is turned into action. She is Head of Marketing in Aize and has held similar positions in Visma Software and Basware Corporation. She comes from Norway's palm coast, Kristiansand.
Stay in the loop
I'd like to receive: