2021 will be the year when we truly fulfill our ambition.

As we return to work after a well-deserved break, we embark upon our greatest challenge yet: digital project execution of the NOA project. This joint effort between Aize, Cognite, Aker BP and Aker Solutions, represents fundamental progress for our industry, as opposed to merely incremental.
The NOA project is set to become the manifestation of the Aize mission: transforming how we run capital projects. We replace manual, costly processes with software-driven ones. I'll give you an example: Traditionally, design drawings are manually evaluated prior to construction. Collision control, for instance, is largely done by the human eye. This is extremely cost-intensive.
In response, Aize is developing a constructability engine together with our customer Aker Solutions, which automatically verifies the design based on a set of rules. This alone saves countless (wo)man-hours of engineering. Precision is improved, too.
Throughout the realisation of the NOA project, Aize will root out inefficiencies like these, through software. Our applications build on the unrivaled Cognite Data Fusion, which provides operational asset data at scale, in real-time. Here lies perhaps the biggest game-changer we have to offer: updated data, instantly available to all stakeholders.
Isn't it ironic how some of the greatest engineering feats in history have been coordinated via e-mail, phone, and even fax machines? Imagine what we can accomplish with better data.
That's why I'm thrilled by the journey ahead. It's impossible not to have faith in this team – I can't wait to see what we'll discover. There's no doubt our software has the potential to radically impact our industry. I've seen it happening already.


Non-Artificial Intelligence Is Key
While automation lies close to our hearts here at Aize, it isn't always the answer. Manual processes have their place, too.
As a young leader, I'm lucky to be surrounded by experience and competence. Aside from my colleagues here at Aize, I have access to some of Scandinavia's top industrial minds, from the Aker system. But those resources only have utility if I'm willing to sit down and learn from them. During Aize's first year, I've spent a lot of time doing just that. The better we understand each other, the better we're able to steer the company towards meaningful results.
I stress learning, because we're building a pioneering company. Unknowns are the norm, and our organisation's mindset has to reflect that. Going from 0 to approximately 120 employees in less than a year is an amazing accomplishment – and it requires lots of maneuvering. It's definitely challenging, but I think most of my coworkers would agree that Aize's flexible and exploring nature is a key part of the attraction.
Speaking of flexibility: Inclusiveness and well-being is profoundly important to us. We're a high-performance company, but we're mindful of keeping our priorities in the right order. Coders before code. People before product. I'm convinced it's the better approach, for all purposes.


We've Only Just Begun
We founded Aize less than a year ago, and in all modesty, we've spent our time well. I take pride in the strength of the foundation we've built so far. And we're going to need it. Looking at the industry landscape, I see a dizzying amount of data just waiting to be synthesized and made useful. I believe we're the company to do it.
Given the scale of our projects, it's hard to capture the essence of our potential in only a few words. But I'll say this: We'll continue to leverage our top-notch industrial insight and software expertise.
No more data silos. No more construction mistakes due to outdated drawings. No more cumbersome processes. It's time to combine great minds with great software.


Happy New Era!
Sincerely,
Jarle Skrebergene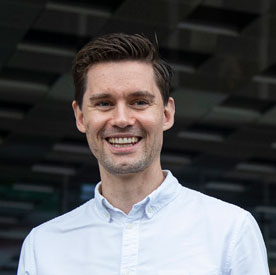 Jarle Skrebergene, CEO at Aize. Jarle's professional career spans from Cognite, Arkwright, Kongsberg Digital and Deloitte. He holds a MSc in Industrial Economics from NTNU.
Stay in the loop
I'd like to receive: