"Aize dominated the Norwegian news this week as we revealed our company's ambitious growth plans. Aize board member and majority shareholder Kjell Inge Røkke and I sat down with E24 and Dagens Næringsliv to talk about how the idea for the company came about and our plans to transform the energy industry with our pioneering technology.
Rooted in Aker's 180-year industrial history, the idea of launching Aize stemmed from a growing realisation that Engineering, Procurement and Construction (EPC) processes were riddled with inefficiencies. A notable indication of this was the fact that the number of engineering hours used per kilogram of steel had barely dropped since CAD (computer-aided design) software was introduced several decades ago, to replace manual drafting with an automated process.
As Aker BP prepared to embark upon the development of the southern part of the NOAKA area, one of the largest remaining oil and gas fields offshore Norway, the decision was made to break new grounds in digitalising project execution.
On March 14th 2020, as Norway ground to a halt amid the Covid pandemic, a small team led by Frode Strand (CTO) and myself got together to rev up the engine and put together a team that could create a digital replica of the most complex project that will be executed in Norway over the next years. Aize was born and we've been firing on all cylinders ever since.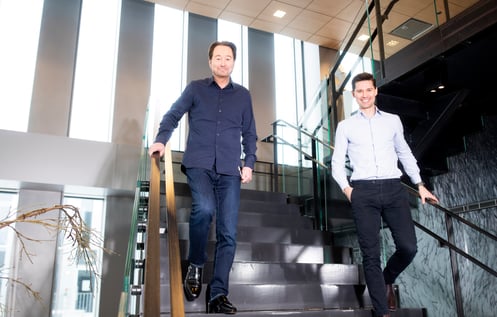 Foto: Fredrik Solstad, E24

Our mission is to enable the industrial revolution with our software. For the NOA project, we're working on developing a fully-digitalised execution model, using the Cognite Data Fusion platform.
Through state-of-the-art technology solutions to improve collaboration, and to automate and standardise complex processes, we will create value by maximising efficiency, while minimising operational costs and emissions. Our software is expected to cut the time spent on the engineering and manufacturing phase by up to 25%.
By reducing operational costs, we make the supplier industry more competitive and better positioned to deliver services to the renewable industry, where margins are lower. That's the sector we're turning our attention to next and with everything happening at Aker Horizons these days, the two companies are "a marriage made in heaven," as Kjell Inge told DN. The marriage's first offspring materialised today in the form of the announced collaboration with Aker Clean Hydrogen, Aker Horizon's pure-play industrial clean hydrogen producer.
Thus as far as start-ups go, Aize is in a uniquely privileged position: we have a solid owner who is committed to investing the capital needed to fuel our growth, we have a large industrial user for the software we develop, we have extensive domain expertise, we collaborate with Cognite - one of the leading providers of structured and contextualised data - and we have an attractive pipeline of existing and potential customers.
What we need more of is talent. If we're going to solve some of the most daunting industrial challenges out there, we're going to need the world's sharpest developers.
In 2021 alone, we plan to double our workforce to 200 employees, adding new software engineers, data scientists, designers, domain experts and commercial professionals. If you are ready to take on this challenge with us - reach out to us here. I can't imagine a more exciting time to become an Aizer."
- Jarle Skrebergene, CEO at Aize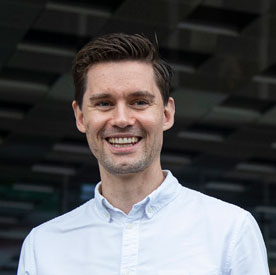 Jarle Skrebergene, CEO at Aize. Jarle's professional career spans from Cognite, Arkwright, Kongsberg Digital and Deloitte. He holds a MSc in Industrial Economics from NTNU.
Stay in the loop
I'd like to receive: