Head of Architecture Irene From had done a lot of exciting things before joining Aize, so it's a relief we have managed to keep her challenged and interested. From start-ups in Silicon Valley to global fertilizer companies, her vast experience in tech, industry and leadership has become invaluable for a company like ours.
'Throughout my career, I have worn many different hats and held various roles, Irene tells us.

'I began as an entrepreneur, gaining a unique mindset that allowed me to think differently and approach problems from new angles. Applying this approach to the corporate world has allowed me to travel and meet with people in their work environments to understand their needs better and then use this knowledge to build innovative software solutions that improve warehouse and logistics operations in greenfield and brownfield projects globally. Along the way, I also had the opportunity to work as a software developer and solution architect, sharpening my technical skills and guiding technical teams.'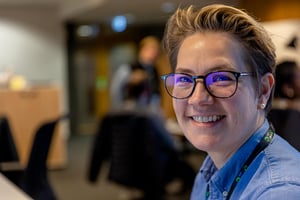 Work culture of collaboration


Her previous role before Aize was running her own IT architecture consultancy, and throughout her professional journey, she had the privilege of working in companies with an international reach.
Collaborating with people from different backgrounds and cultures, exchanging ideas, and creating solutions together are things that she still values highly.
'I am proud to lead a team of talented architects and be a part of building the Aize product and our company. I am passionate about fostering a work culture of collaboration, mutual support, and open communication across our engineering teams', explains Irene From.

'As we continue to work towards our product vision, it's essential that we remain motivated and inspired as a team. We are united in our efforts to bring about something truly groundbreaking, and it's crucial that we all stay committed to our goals and maintain a shared focus on the big picture.'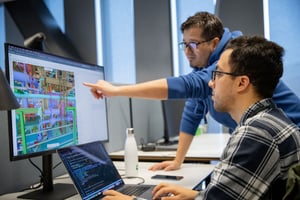 Encouraging employee development


In Irene From's world, having a job at Aize is not just about building a product; it's about being part of a dynamic and diverse team that brings inspiration, joy, and laughter to the workplace.
'Being surrounded by such a supportive group of individuals has allowed me to grow both personally and professionally, and I am constantly inspired by the innovative ideas and collaborative efforts of my colleagues', says the Head of Architecture, who believes Aize also gives these inspiring people a chance to evolve and develop within a quickly-growing start-up.
'It's exciting to be a part of this process. I have been allowed to develop my skills and evolve into different roles, which has been incredibly fulfilling. Aize understands the importance of investing in its employees through learning arenas such as hackathons, bite-sized insights, tech talks, professional guilds, and more, she says, and adds:
'Guilds are communities for knowledge sharing, collaboration, and culture building. In Aize, we have several guilds to participate in, such as architecture, back-end, front-end, QA, and security. The company-wide career growth framework provides flexibility in career progression, allowing me to explore different roles and make the most of my talents. The management actively encourages and supports employee development through coaching, mentoring, and providing opportunities to take on new responsibilities. It's great to be a part of a company that values its employees' growth and development and provides the resources to achieve it.'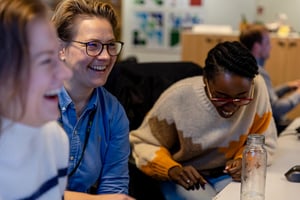 Fostering positive communication within teams


In her role, Irene gets to foster this type of growth in her colleagues and maybe give people some helpful advice along the way. But what is the best advice she has gained since joining Aize?
'The advice I received from our CTO, Frode Strand, while working on a presentation, was particularly valuable to me. He emphasized the importance of being mindful of the context and meaning behind the words I use, as they can be interpreted differently depending on the audience's background. He advised me always to present the context and meaning when using a word.', says From.
'His guidance reminded me that words are containers of power; they can shape your environment, work, and life. It has inspired me to be more thoughtful when choosing words, not only for effective communication but also for fostering positive communication within teams.'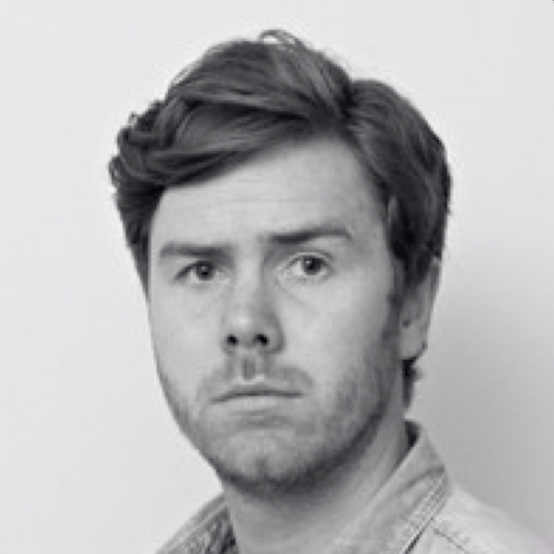 Mads worked as a journalist and project manager in Aller Media and Schibsted for 15 years before joining Aize as Content Manager in 2021. He loves writing, travelling and living in Oslo.
Stay in the loop
I'd like to receive: