Aize is a software product company established to facilitate faster, cheaper and more efficient execution of capital-intensive projects and operations.
We believe there is a better way to design, build and operate complex assets
Even with all the world's information at our fingertips, the iron law for mega projects remains the same: They are over budget, over time, over and over again. And once in operations, valuable insights from the project phase are archived in 'dead documents', forcing the same issues to haunt operators for decades.
Having spent the last few years at Cognite, I know that we are able to manage, contextualise and make use of data to transform operating performance of any asset. However, it has been striking to see the unlocked value by taking an even more holistic view. The pain points are familiar to anyone, they are the same even if you only you plan and organise a birthday party for your son or if you renovate your house: We misunderstand each other, we act on outdated information, we iterate endlessly on non-critical issues, we work in silos, and we mess up in handovers. But imagine that your plumber, electrician and carpenter were always in sync, and that errors in the architect's drawings were instantly resolved. This is what we are working towards at Aize.
Changing the way projects and operations are run
The technological development seen over the past decade now offers a realistic shot at fundamentally changing the way projects and operations are run. However, running complex, industrial projects and operations is, well, complex. And it is complexity at scale. This means that the challenges cannot fully be solved only by simple applications 'here and there'. We are therefore building software products that enable a seamless exchange of information between stakeholders, throughout the value chain and over the life cycle of an asset. But we are not claiming we will be the 'silver bullet' to all your challenges. No one can. But we are certain that we can make life much easier for engineers, construction workers and operators through software applications and fit-for-purpose information models that connect technology, platforms and assets already in place.


True domain experts and decades of industry experience
We are currently a team of 100 employees, a mix of deep domain experts who possess decades of industrial experience, combined with world class software developers. We have acquired the ix3 software company from Aker Solutions, as well as software from Kværner, giving us a strong foundation from which to build our company. Our mission is to develop software products that matter, that solve real challenges, and that are usable and understandable for all.
It's still early days, but our team of Aizers are hungry and ready to take on challenges across the industry, with creating versatile software products that improve efficiency, profitability and quality in any capital intensive project or operation. We are certain that this will have positive ripple effects on society, and accelerate the transition to sustainable energy. But in order to succeed, we must have the right people on board. We are at the hunt for new team members.
Are you ready to take on this challenge?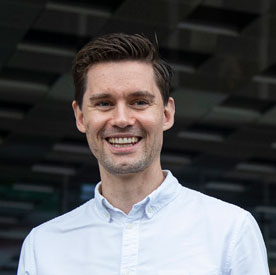 Jarle Skrebergene, CEO at Aize. Skrebergene joined Aize from Cognite, where he held the role of Vice President of Customer Success, EPC and OEM Lead. Skrebergene has previously worked for Arkwright Consulting and Kongsberg, where he was notably part of Kongsberg Digital's management team. He has a master's degree in Industrial Economics and Technology Management from the Norwegian University of Science and Technology (NTNU) and in Corporate Finance and Financial Risk Management from The University California San Diego.
Stay in the loop
I'd like to receive: