Aize's Senior Vice President of Customer Success and head of the NOA project Ann-Kristin Takle talks about how one transforms half a century-old industry habits with technology solutions that don't yet exist.

When Aker BP began preparations for the development of the southern part of the North of Alvheim Krafla-Askja area, one of the largest remaining oil and gas fields offshore Norway, a decision was made to break new grounds in digitalising project execution. Ambitions were high from the get-go: engineering and manufacturing hours would be significally reduced, project execution would be radically sped up through greater flow efficiency, and costs would come down as rework and duplicated efforts were reduced to a minimum. Over five decades of well-ingrained methods and systems of working with Engineering, Procurement and Construction (EPC) would be replaced with new methods, based on a digital ecosystem that connects stakeholders and provides a single source of data for the entire project.
Newly established Aize was given the mandate to create a digital replica of the most complex project that will be executed offshore in Norway over the next years.

"Given how digitised our day-to-day lives have become, I think people would be surprised if they knew how far behind we are in the way we work with EPC projects. One example of this is documents", says Ann-Kristin Take, Senior Vice President of Customer Success and Head of the NOA project.

"We produce a massive number of documents. And when collaborating with vendors across the value chain, documents are sent back and forth for review. When you're dealing with a major project where the value chain is composed of hundreds of suppliers, there is significant potential for savings by moving away from documents to structured data and taking advantage of the digital technology that is available," she continues.


A massive R&D project
Takle, who had spent her entire career working for Aker Solutions prior to joining Aize in 2020, heads a team which over the next three years will be working in close collaboration with Aker BP, Aker Solutions and Cognite to develop software applications for the project execution of NOA, scheduled to come on stream in 2027.
"We're in the start-up phase of a massive R&D project," says Takle. Across all four companies, more than 150 people have been mobilised so far. At Aize, we're 60 people working on the project today, and by this summer we'll be 90.

The project's end goal is to develop a fully-digitalised execution model for the entire NOA project from cradle to grave, radically transforming how projects are executed. But to achieve this, the field operator, the EPC contractor and the two software companies need to work closely together to come up with new solutions, within a short time frame. This requires iterating on solutions rapidly and getting feedback from the actual users of the technology.

"Without this set-up of these four companies working together, you probably wouldn't be able to do this at all," says Takle. "We have a very clear deadline: this field starts production in 2027. Ahead of this, we need to not just have the solutions ready and implemented, but also prove that we are able to successfully transform the way this project is executed. That is probably our biggest challenge, but also where the biggest opportunity lies: we're doing this massive development and transformation and we need to deliver to a project that is charging full speed ahead."
Building Aize for the future
The solutions developed for the NOA project can be transferred to other heavy-asset industries, given that many of the challenges faced in the offshore industry are generic to large projects, says Takle. Construction is one sector where Aize's software solutions would be relevant, as well as the renewable energy industry. Aize announced a collaboration with Aker Clean Hydrogen, a pure-play industrial clean hydrogen company, in February.
In order to support the steadily expanding customer portfolio, Takle is hard at work developing the customer success function at Aize.

"The customer success role is really all about building Aize for the future," says Takle. "The Customer Success team is the team that's working closely with our customers to ensure they get value from our products. We have started to build a strong and diverse team and we are looking for more talent to join us. We need the best out there."


Ready to join our team?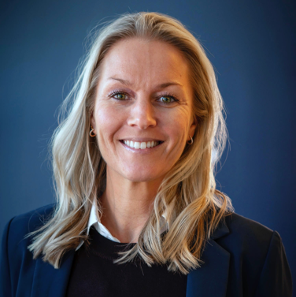 Trine is a marketing enthusiast who loves to see the effect of marketing and communications when strategy is turned into action. She is Head of Marketing in Aize and has held similar positions in Visma Software and Basware Corporation. She comes from Norway's palm coast, Kristiansand.
Stay in the loop
I'd like to receive: